Ngöndro Teachings with Buddhist Monk Khedrupchen Rinpoche
We'll be hosting 2 rare workshops with the Buddhist monk Khedrupchen Rinpoche
This is a unique opportunity to receive intimate instruction from a high level Rinpoche and lineage holder in the Tibetan Buddhist tradition. He'll be offering the Ngöndro teachings, which are the foundational, preliminary teachings for all of the other high-level teachings you receive through Luminous. These teachings are often described as the foundation of the house, without which the house will fall over.
Khedrupchen Rinpoche is the living lineage holder for these transmissions. When he teaches in his own country of Bhutan, over 5,000 people will show up to receive the teachings. This is a rare and precious opportunity to receive an in-person transmission from a Rinpoche as high as him, as his teachings hold the power of all the teachers that came before him.
He is only in the United States for a short period of time before returning home to Bhutan. Anna-Lisa personally recommends you make this event a priority if you can attend!
Dates & Times:
Friday – Sunday, 9am-6pm local time
Portola Valley, California – Private Residence. Address given upon registration
Retreat Weekend Part 1: February 10th-12th, 2023
Retreat Weekend Part 2: March 3rd-5th, 2023
Boulder, Colorado – Private Residence.Address given upon registration
Retreat Weekend: February 17th-19th, 2023
Recommended donation: $499-$650, sliding scale.
Larger donations gratefully accepted!
Please note this is a fundraiser for Rinpoche's orphanage & charitable works feeding, housing and serving children, monks, nuns, the elderly, sick, disabled, as well as rehabilitating criminals. If a sincere seeker is genuinely called to attend, they will not be turned away for lack of funds, however, we ask all who attend to contribute as much as they can to best serve Rinpoche's mission.
Limited Spots Available.
Lodging and meals not included. Please arrange accommodations if coming in from out of town.
As always, reach out with any questions to coordinator@luminousawareness.com.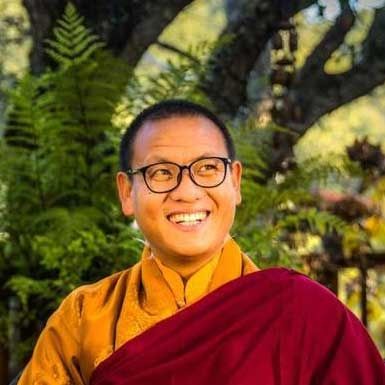 About H.E. Khedrupchen Rinpoche:
Guest Teacher, Buddhist Monk
His Eminence graduated from Ngagyur Nyingma College, Dehradun, India in 2014. Prior to his graduation the Rephel Mindrol Lhakhang monastery (established in the 8th century) in Trongsa Bhutan was offered to him by the local community.
Initially in disrepair, it is now being reconstructed under the new name, Sangchen Ugyen Tsulag Monastery and is located close to Samcholing village.
His Eminence is recognized and was enthroned as the Fifth successive reincarnation of Kyabgon Khedrupchen Jigme Kundrol, an illustrious heart son of Rigzin Jigme Lingpa.