Ocean View property
33 acres
for sale in Nosara, Costa Rica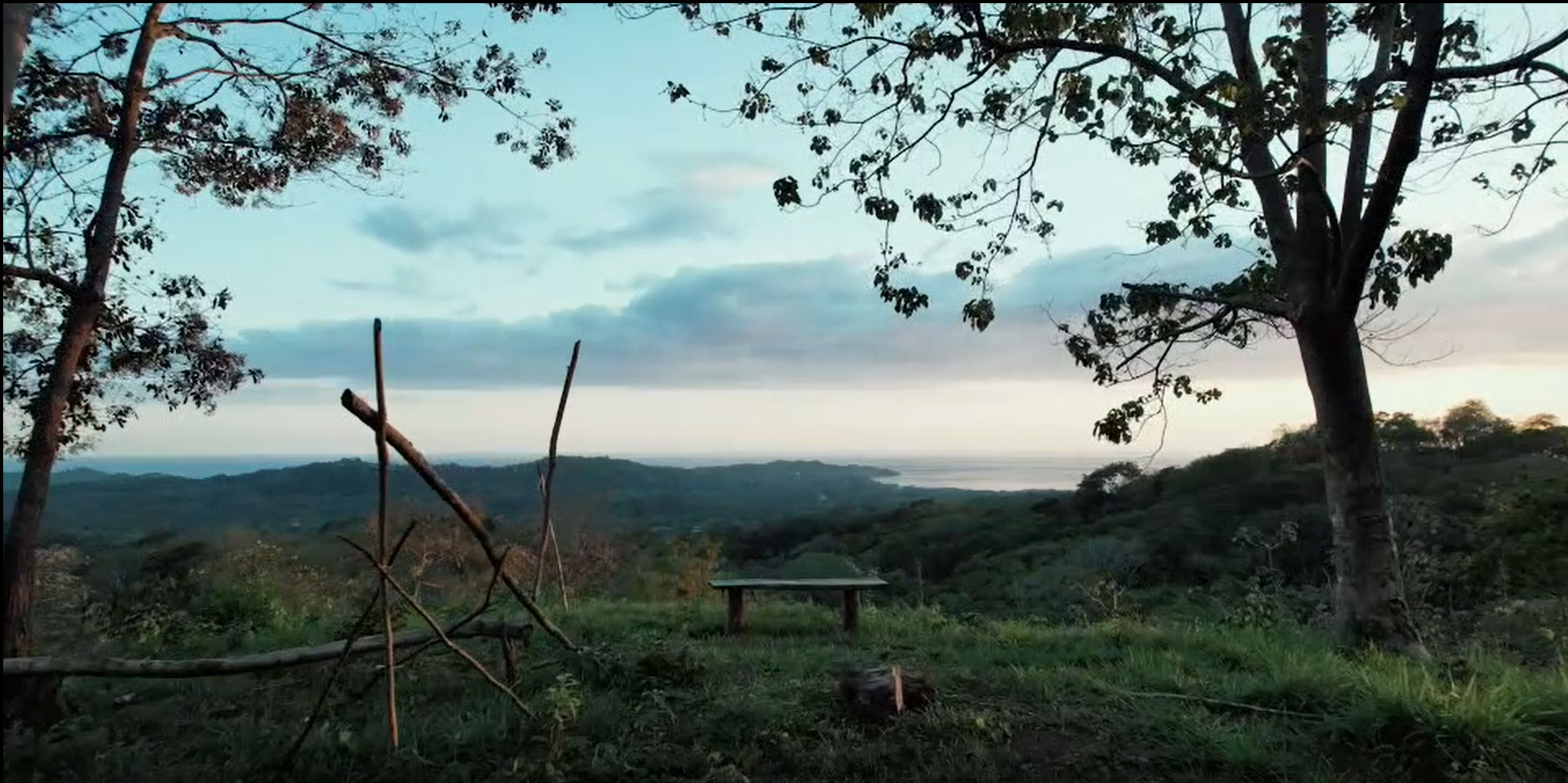 What would it be like to have your own sanctuary in paradise?
Incredible investment opportunity!
33 acres, for sale in Nosara, Costa Rica
8 minutes to the popular village of Nosara and 10 minutes to Guiones beach.

A profitable venture 

18 homesites (roughly 5000m) with completed masterplan, many stunning oceanviews and even more usable land for creating your complete dream.

Approved water letters and exclusive rights to the well water.

Large spring, two natural creeks, and waterfall

good soil for farming
The rare opportunity to own a turnkey property that is already masterplanned with approved water letters.
An entire plan has already been completed that you can use as a basis for your vision, including vetted architects, builders, and everything permitted for a small neighborhood development, family compound, retreat center or boutique hotel. Create your dream, and escape from the grind of life and rejuvenate your spirit. All the guidance and support you might need to build your complete concept.
While some only dream, a select few will know the peace that comes with "Pura Vida"
A place where well-being isn't just fostered, it's a way of life. A place where nature is cherished, and the freedom to thrive and embody the spirit of Costa Rica's pura vida, the (pure life).
Just minutes away from the popular eco-village of Nosara and world class surfing. 
18 home sites rests, nestled above the lush jungle treetops. Complete  with stunning views of the open expansive ocean. With quick access to the enchanting charming eco-town of Nosara and beautiful beaches, this sanctuary offers a new reality to its owner and what ever they create here.
A place to come back into balance with yourself and the world. Where you can make a practical investment in an eco-minded future, while being deeply supported by the nourishing land of Costa RIca.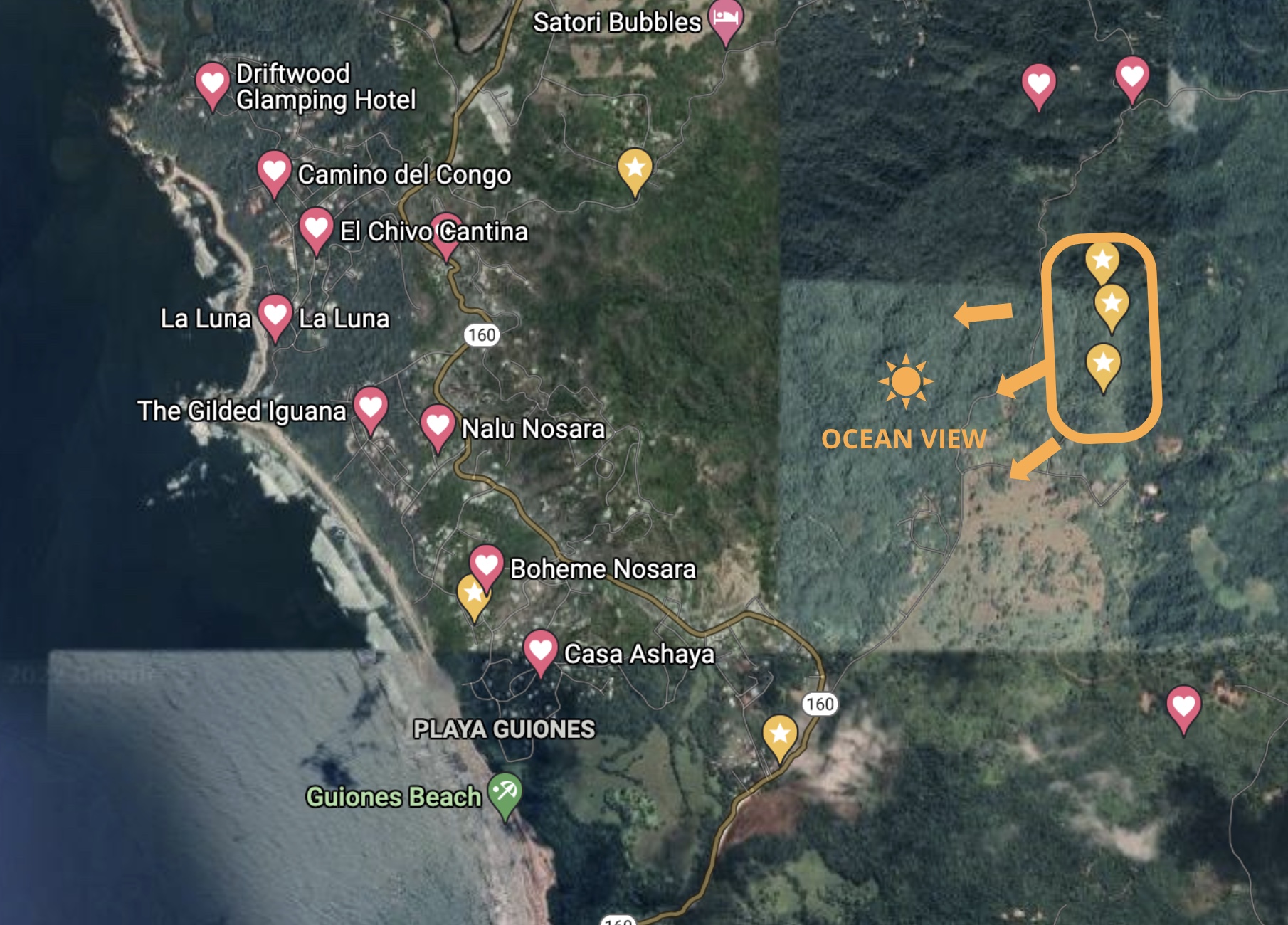 An opportunity to invest in paradise.
If you're interested, we can set up an informational call!
Masterplan
18 Homesites on average 5000m (one acre and ¼) each
See the site map below for the current plan to make best use of the potential of this amazing plot of land.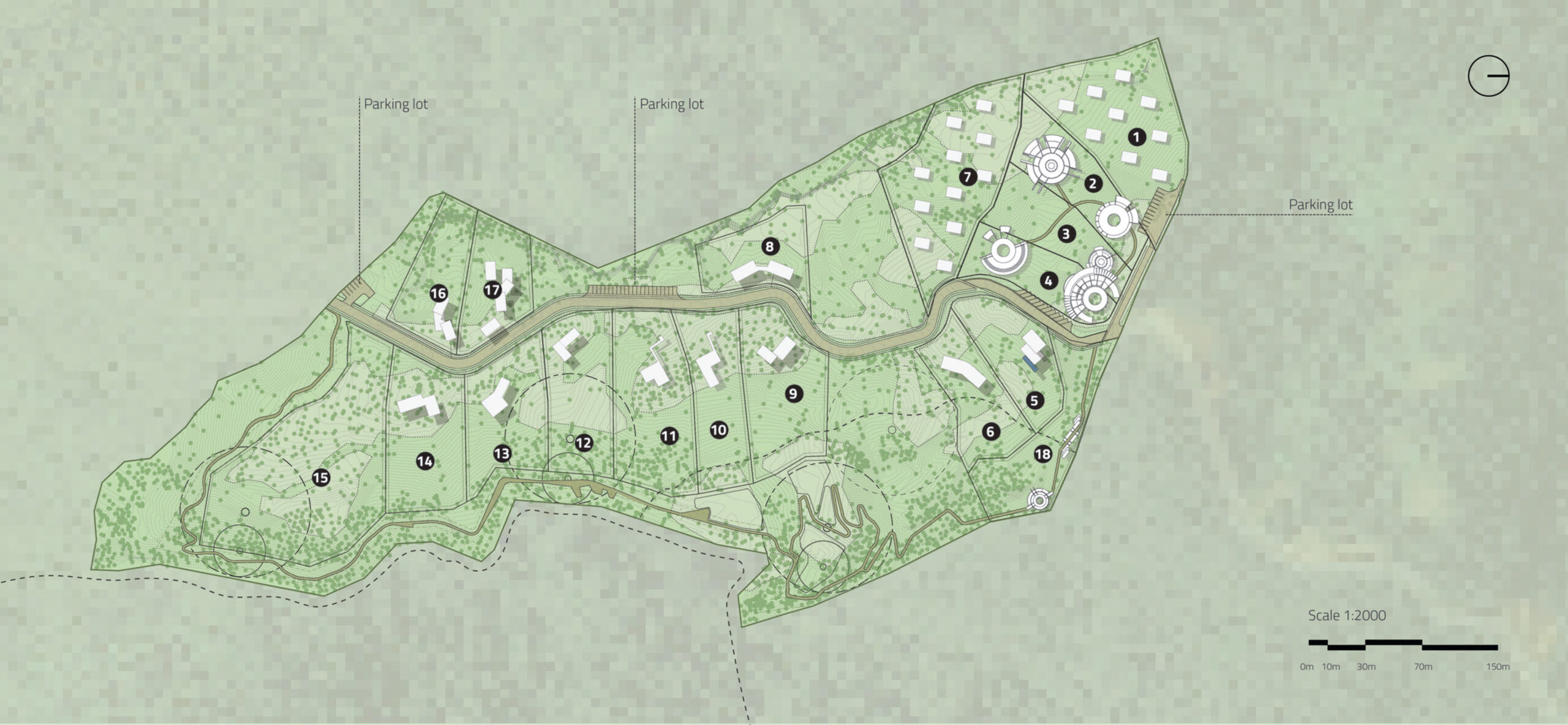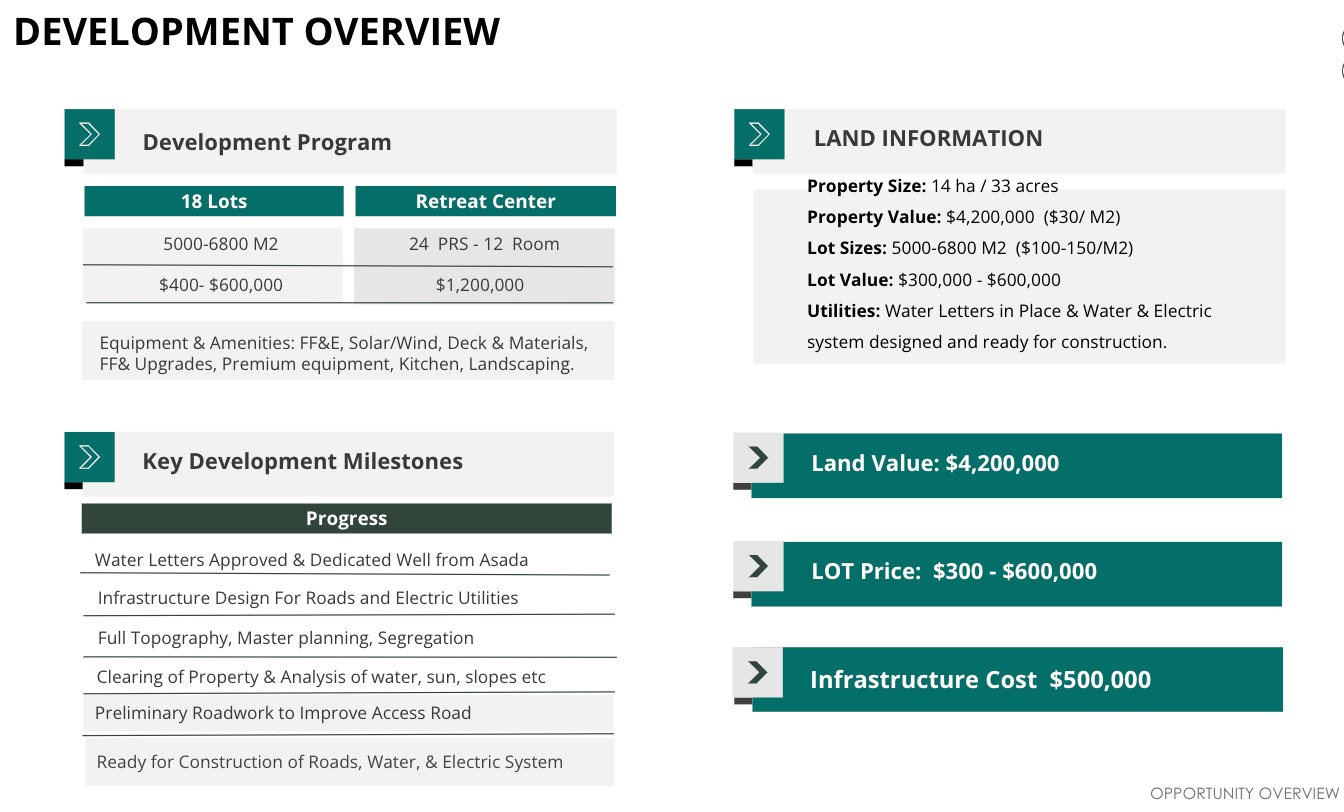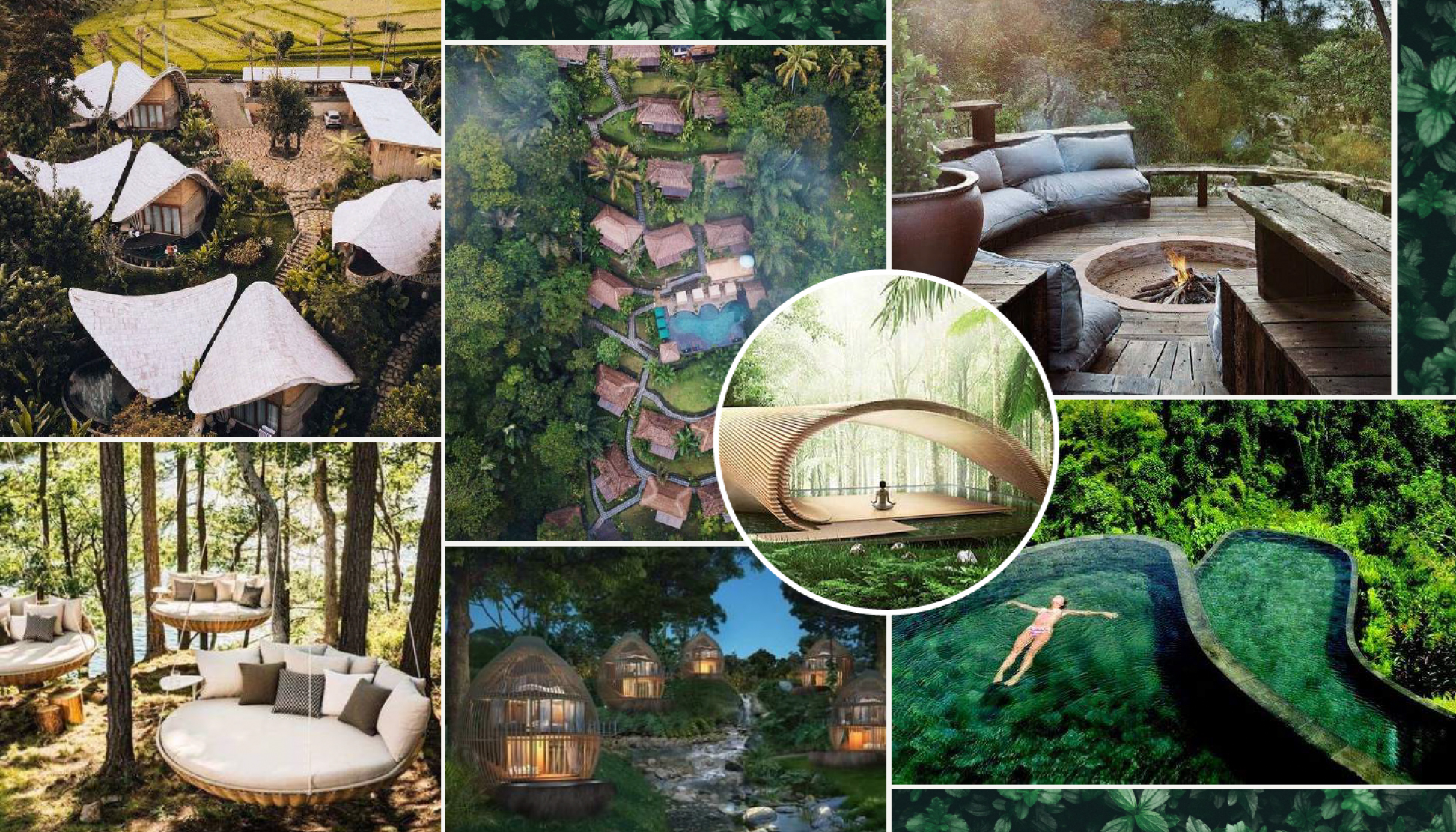 Why Nosara?
Situated in the one of the world's 5 blue zones, Nosara enjoys a very bohemian health and well-being lifestyle, boasting world class yoga centers, organic food, healthy restaurants and juice bars, and an incredible array of beaches, jungle and wildlife. Local residents have tapped into the secret of longevity and "pura vida"- the pure, simple, close to nature life, that leads to true happiness.  The village is small enough you feel a sense of belonging running into familiar faces as you walk from yoga to the beach. The community is international and nomadic enough that there is always someone interesting to meet.
Costa Rica is considered one of the most eco-friendly countries to live in, running entirely on renewable energy. The lifestyle is centered around clean living with a particular emphasis on the environmental protection of the country's diverse eco-systems.
As an extra incentive, Costa Rica allows real estate investors of $150,000 to apply for permanent residence, making the notion of moving to paradise an attainable goal.
Nestled on a 33 acre hillside just outside of Guiones, Nosara, this extraordinary property was chosen specifically for its strategic location, stunning views, ample water, natural resources and environmental preservation. Inspired by the serenity and natural beauty of the environment, the property has 18 building pads that are about an acre. The property offers a diverse landscape with breathtaking views and spectacular sunsets. With ample room to hike and 2 natural creeks, the environment makes for the perfect setting a small development or retreat center.
The peaceful seaside town of Nosara is located in the Guanacaste Province of Costa Rica's North West Coast. Boasting stunning wildlife, nature, beaches and local culture, this town has become a favorite to those looking for the Life Less Ordinary. From Waldorf Schools, to Permaculture farms, Organic markets, and incredible restaurants, to some of the best wellness practitioners and teachers of multiple modalities of healing – Nosara really has a special combination of ingredients. The people who are drawn to Nosara the final ingredient thought! Like-minded families and individuals looking to pioneer new ways of living and being for themselves and others.
Costa Rica, as a whole, is a country that boasts the energy so well coined by its tag line, "Pura Vida!" A country with no standing army, some of the highest literacy rates in the Americas, carbon neutrality with excess renewable energy, growing forest coverage, and the highest biodiversity per square foot in the world.
"Walk as if you are kissing the earth with your feet"
Thich Nhat Hahn

Why Own Land in Costa Rica?
Easy Residency when purchasing a $150,000 real-estate, investors become residents and later can obtain citizenship.
Safe way to diversify assets out into something that really matters (your life)!
Full Titled Ownership Rights in a market with strong growth over the years
Having Water and Food Security w/ Land that you can call your own (Plan A)
Build a home, family compound, or multi-bed retreat and  earn income while you are away or traveling so it's not just another idle asset in your portfolio.
Costa Rica has quickly become a hub for community, ecology, wellness and life 2.0
Why live full or part time in Costa Rica?
Happiness. (People of Costa Rica are ranked the happiest people in the world)
Sense of freedom, fewer rules
Living in nature with first-world amenities.
Time Zone that allows me to work with the US
The warm ocean beach life
Warm weather all year long
Health — it's easy to maintain a healthy lifestyle environment and Eco-friendly
Affordable access to wonderful organic food
The value. I have so much more buying power for the work I do here.  
Safety
Expat friendly (over 100,000 American Expats already residing in Costa Rica)
Fiber-Optic reliable internet connection
Proximity to US (3 hours from Colorado, NY or Miami and 5 Hours to LA or SF
Stable reliable government. A president that cares about the environmen. A country with no military
If you're interested, we can set up an informational call!